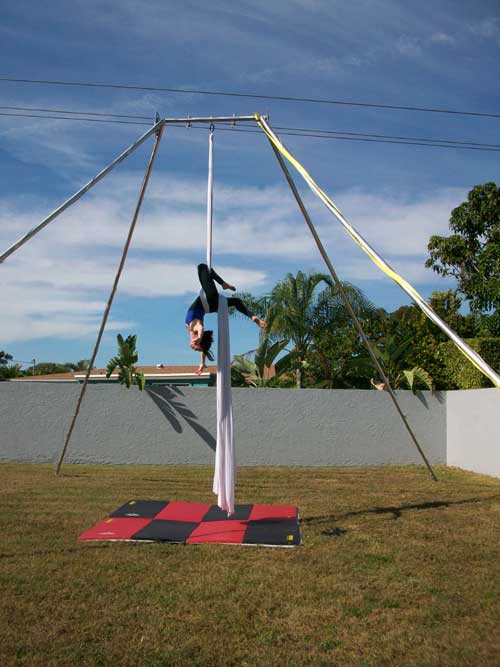 Welcome to a unique adventure. We are here to share the joy and excitement that is part of the circus. You don't need to be super strong and fit. There's room for all sorts of people in the circus arts. Take our Circus 101 class and see what there is to do. Then move on to other classes as your interests guide you in your journey. You can do some aerial arts such as Silks, Rope, Lyra, Trapeze. Or try some ground acts, such as Acrobalance(also known as Hand Balance), Rolla and Juggling. Practice with friends and family. Get fit with our Circus Fitness class, or relax with our Aerial Yoga class. We have daytime and evening classes for adults and children. There are classes for Homeschoolers. Our classes are taught on a continual basis, year-round in our location in Delray Beach, in Sunny South Florida.
We also have an outdoor rig which is available for rent.
---
Click the red bar to review us!
Sunshine Circus Arts
We are now located at 1225 NW 17th Ave, Delray Beach, FL . It's N of Lake Ida Rd off of Congress Blvd. The address in Google maps/iphone has not been updated, you will have to enter the address manually.
---